Waypoint brings a new and authentic overnight experience to Ventura.
WAYPOINT: A stopping place on a journey.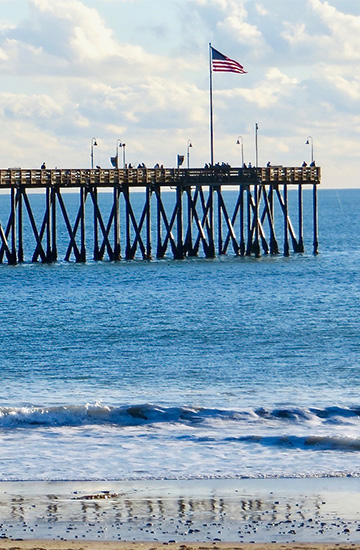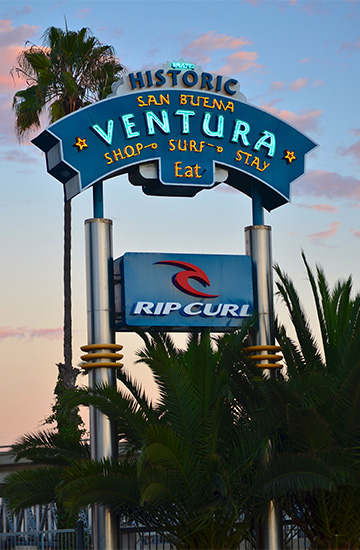 VENTURA: Fortune, luck, chance, happiness.
Two local families and a number of expert craftsmen have come together to breathe new life into abandoned relics of our post-war past. Once the epitome of class and luxury travel, each coach has its own story. No longer needing to build planes for WWII, airplane manufacturers shifted their skills to building riveted aluminum travel trailers that redefined travel in a uniquely American way. The idea for Waypoint began in early 2014, and since then we have collected, restored, and renovated a stunning selection from over nine manufacturers, and our search and rescue continues.
We are thrilled to share these iconic trailers with all who choose Ventura as a Waypoint.
WANT AN EXPERIENCE YOU WILL CHERISH FOR YEARS TO COME?
Are these Airstreams?
We have a varied collection of aluminum skinned travel trailers, including a few Airstreams. While Airstream is the most commonly known brand of aluminum trailer, dozens of manufacturers existed from the 1940's – 1970's, and we think it is important to showcase a wide variety them. When a special trailer is found in great original shape, it is restored to its showroom grandeur. This process often involves stripping the trailer down to the studs, and rebuilding it to its original condition (with a few modern conveniences added of course!). When the interior is beyond repair or when the interior features are not to our standards, the trailers are similarly stripped down, then completely renovated with a unique, modern layout.
Is this camping?
Don't think of this as "camping." Our trailers are set up as modern, luxury hotel rooms with an emphasis on comfort. Each suite has a unique personality, but all feature the high-end amenities you expect from a premier hotel. Your trailer will have a deck with lounge chairs and a view of the excitement around you.
What should I expect regarding the weather?
We are located near the beach, so an ocean breeze can be expected. Ventura is known for its temperate climate, but check weather forecasts for details.
What can I do on the hotel property?
Lounge on your private deck or enjoy the communal areas. Play cornhole, hang around the fire pits roasting s'mores, or barbecue with friends. We love our property and hope you do too, but we encourage you to take our complementary bikes to the downtown area restaurants, bars, and breweries; beach and surf spots; and hiking trails. Both downtown and the beach are within walking distance. We are happy to give suggestions on site.
What is the cancellation policy?
A 50% deposit will be taken upon reservation to secure your room. Cancellations must be made at least 48 hours prior to the arrival date to receive a full refund. Cancellations made less than 48 hours in advance, or early departures will be charged the amount of the deposit as a cancellation fee. No-shows and late arrivals will be charged the full room rate of the first nights stay.
Check In / Check Out
Check in is at 3pm on the day of arrival. Check out is at 11am on the day of departure.
Is the hotel dog friendly?
Dogs under 35 pounds are welcome to stay with us in select trailers for a fee of $50.00 per night. Due to the fragile nature of our trailers, only certain rooms are pet friendly. Pet fee includes water/food bowl and dog treats. Dogs must be kept on leash while on property. Maximum of 2 dogs per trailer.
Please call to book a pet friendly room as they cannot be booked online. Arriving with a pet that has not been previously arranged for will result in a charge upon arrival.
Waypoint Ventura is not liable for any damage or injury caused to another person or animal on property, and will hold the dog owner responsible.
Hotel staff has the right to pet and hug all dogs.
Can I cook inside my trailer?
Kitchens in the trailers feature a sink, refrigerator, microwave, and electric kettle. They do not have pots and pans or cooking utensils. We provide stemless glasses and coffee mugs. Our common area kitchens have grills and a sink, and are located next to a fire pit with Adirondack chairs. We encourage guests to enjoy any of the excellent local restaurants. We are happy to provide recommendations, so please ask!
Can we book a group of trailers?
Our carousel is ideal for group bookings. This grouping of 6 trailers surrounds a fire pit with Adirondack chairs. The "Tour Bus" is also great for large groups looking for individual "bunks."
Can I bring my travel trailer or RV?
Guests' "rigs" are limited to Airstreams, vintage, or retro travel trailers under 31 feet in length. Approval of the camper is subject to management's discretion. We have two showers and bathrooms available for guests' use. Motorhomes are not permitted. Very low trailers may have trouble traversing the raised railroad crossing, so please call for details.
We have 20 sites with full hook ups for booking via our website or by phone.
Can I car camp, pitch a tent, or stay in a campervan?
Tents are not allowed on property.
Are the rooms handicap accessible?
Unfortunately we are not able to meet handicap requirements within the walls of a vintage trailer. We offer handicap parking, accessible pathways, and a site for those with their own handicap accessible trailer.
Do you offer housekeeping?
We like to provide our guests with as much privacy throughout their stay in order to make each trailer feel like their own. The rooms are not outfitted with safes, and due to this, daily room service is not automatically provided. Daily room service will be provided at the request of the guest for no additional charge.
Contact info
Address
Waypoint Ventura
398 South Ash Street, Unit E
Ventura, California 93001