"The Palace" - 1948 Palace Royale
This vintage time capsule holds all the luxuries of a modern palace. The birch interior, teal color palette, and original refrigerator and stove will transport you to an earlier time.
Sleeps 2
26 Feet Long
Vintage Styling
Aft Full Bed
Privacy Between Bedroom & Main Salon
Original Vintage Fridge
Private Shower on Deck
Stove is for Aesthetics & Does Not Function
Surround Speaker System
Air Conditioning
"The Palace" – Floor Plan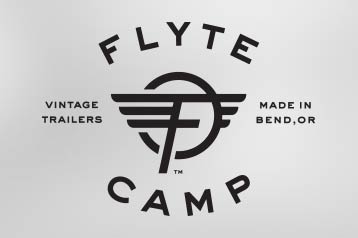 A Brief History
Restored by Flyte Camp in Bend Oregon, this trailer was featured on GAC's Flippin' RVs Season 1, and was the first Vintage Travel Trailer to show at SEMA 2015 in Las Vegas. It was painstakingly restored to original specifications, including the original exterior paint codes and the birch interior walls.
The Palace Travel Coach Corporation was founded in 1935, and became the nation's second largest producer of travel trailers by the end of the decade. They started a new era by being the first to produce a coach with an all-metal roof in 1937. During World War II, Palace sold thousands of trailers to the US Army for housing. http://www.flytecamp.com/vintage-restoration/item/1948-palace-royal